What do I need to do?
Structured Workplace Learning (SWL) is on-the-job training where your student can master a set of skills or competencies related to their VETiS or VCAL course. (See table on this page for definitions of all these acronyms!)
Your role as the teacher will consist of the following:
Join the 'Experience For Work For Young People' talent community.
Contact GRLLEN to start the request process for a Portal login.
Use 'Experience For Work For Young People (website) as the first step for students to locate a suitable SWL work placement. For confidentiality purposes, you will be directed to a login page and then to the host employers opportunity and contact details.
Note the employer contact details and call the employer to discuss your student. This is to ensure there is a good match between the employer and student.
Next, have the student contact the employer to arrange an interview and ensure the appropriate paperwork is signed and fully completed before the placement begins and returned to you at school.
Here are other key members of your team:
The GRLLEN who will source the SWL opportunities in Geelong's key trending industries
Your student's parent or legal guardians who will be actively involved in ensuring the student is well prepared for his/her SWL. They will also sign their child's SWL Arrangement Forms.
Your student's employer who will brief them on their workplace's particular occupational health and safety requirements, offer them an induction on their first day and ensure adequate student support and supervision throughout the placement, complying with the Education Department's guidelines
The Education Department who provides all of your student's Work Cover and Public Liability insurance.
---
Important changes for 2017
---
All SWL arrangements made after 1 January 2017 must comply with the newly amended Ministerial Order 55 and the newly amended arrangement forms must be used.
The new 2017 SWL Arrangement Form and Travel & Accommodation Forms have been provided as a resource on this page and have been updated on the SWL Portal.
The Department of Education & Training (DET) has provided an updated version of their SWL Manual which details a number of important changes. The 2017 Manual can be found in our resources list and can be accessed via the DET website.
Please note the following important changes:
The duration of an SWL placement must not exceed 10 days a term (or 40 days each school year)*
A student must not exceed more than 20 days with the one employer during any school year.*
The Child Safe Standards have now been implemented and set a compulsory minimum standard for all Victorian schools to help ensure the safety of children.
Schools are required to develop and implement risk management strategies to ensure child safety in school environments. This includes workplace learning environments such as structured workplace learning and School Based Apprenticeships and Traineeships.
DET has provided schools with support material which can be found here.
*exemptions may apply
For more detailed explanations please refer to the Department of Education & Training's 2017 SWL Manual.
Explaining SWL to my students
As one of your students' primary supporters your main responsibility will be in preparing them for their SWL experience and monitoring their progress while they undertake their placement . A list of resources on this page will help you.
You can help your students get ready for the world of work by discussing the key differences between school, casual work and SWL workplace expectations. Share with them your own experiences of work, your personal career pathway and the lessons learned along the way. You can also significantly influence your students' attitudes towards their future careers by sharing with them the good news about Geelong, its predicted growth and the dynamism of current and future industry opportunities.
The world of work is a whole new culture to a student, even one with part time or casual work experience. Discussing this world, learning its language and its unspoken culture, are powerful opportunities for student learning.
Structured Workplace Learning (SWL), can play a key role in preparing your students for their futures. Not only does your student have the opportunity to master a set of skills or competencies related to their VETiS or VCAL course, they can also learn about the world of work from the inside!
Your students will gain:
By negotiating a SWL placement you are helping your student to:

develop real industry skills
try out their skills and knowledge in a real workplace against real industry standards
complete units and competency modules from their VETiS or VCAL
increase their employability skills
attain a new understanding of what it takes to land and keep a job!
Is there a future in these industries for my students?
Geelong's transition from heavy manufacturing into a new economy is well documented. So this is a great time to familiarize yourself with the top trending industries in Geelong, and the fastest growing careers within each one.
Click on the trending industry icons at the bottom of the page, or follow this link for more regionally specific information: Geelong Careers. Geelong Careers has a live job feed of all publicly advertised jobs in the G21 region. It is significant to note that each advertised job represents six more that are never publicly advertised. These jobs are filled through cold calling, through industry contacts or through personal experience, including SWL!
Use the dig deeper button on the home page of each of the trending industry sites to find out more about the data supporting these growth predictors.
Explore some of the local industry hero videos. These young people, all from Geelong, have found career satisfaction in dynamic industries close to home.
What do employers want?
Employers tell us they are looking for three things in any young person who wants to join their company:
Punctuality If you arrive on time or early it tells your employer you are keen and ready to learn.
Teach Ability Employers don't want you to know everything. They want to know you can learn. Asks lots of questions. Employers say the only stupid question is the one you didn't ask, that later causes everyone grief! Ask questions about your work but try to listen carefully to the answers. It is annoying when you ask the same question over and over again!
Honesty It takes courage to admit when you have made a mistake, when you don't understand, or when you are not comfortable. But employers want you to tell them the truth. When you do that you build trust.
As a teacher it will be important for you to communicate these key employer expectations to your students. It is noteworthy that all of these characteristics are decisions, not innate abilities!
What will the future look like for your students of today?
Geelong is growing at an unprecedented rate. Our population is predicted to increase by 40% in the next fifteen years. At the same time the nature of work itself is changing. 21st century careers are developing and changing so fast some researchers are calling this the fourth industrial revolution! click here to read more.
And yet many of our regional young people are not staying in school long enough to learn the skills this new economy will require. We have a lower than national average year 12 retention rate, and 29% of our 15 to 24 year olds have not completed a Certificate III qualification or higher! This means we need to work hard now to ensure our current school students are well prepared for their future workplace participation.
"It's time to try something different. It's time to take what we have learned from the past, to combine it with what we know and what young people are telling us today and to create a new future." GRLLEN Youth Employment Plan, February 2016
---
JUMP TO MORE TRENDING CAREERS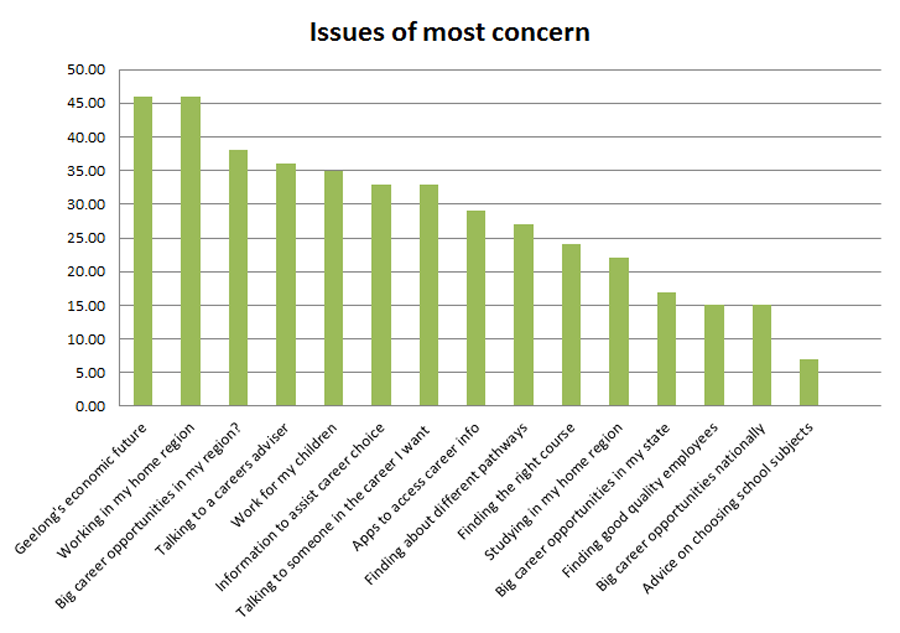 ×