Structured Workplace Learning for Parents
Is your child studying a Vocational Education and Training in Schools (VETIS) or VCAL course this year?
Congratulations!!
They are making a great start on their pathway to employment.
To complete VETIS or VCAL they will need to do Structured Workplace Learning (SWL), on-the-job training, where they can master a set of skills or competencies related to their course.
What is SWL?
Structured Workplace Learning (SWL) is on-the-job training to prepare your students for the world of work, and where your student can master a set of skills or competencies related to their VETIS or VCAL course, (see table on this page for definitions of all these acronyms!).
SWL is more than work experience which is often short term and offers learning by observing rather than doing. SWL is hands on! Your student will have the opportunity to practice and learn structured skills and abilities from their VETIS or VCAL program, and much more!/p>
What are my responsibilities?
As your child's key supporter your main responsibility will be in preparing and supporting them through their SWL experience. A list of resources on this page will help you gain a clearer understanding of what to expect and who is on your child's team! Start by viewing the SWL video, and take a look through the SWL Manual.
You can prepare your child for the world of work by discussing the key differences between school, casual work and their SWL workplace expectations. Share with them your own experiences of work, your personal career pathway and the lessons learned along the way. Consider your contacts and introduce your child to any who may be able to mentor them and prepare them for their SWL experience. Most importantly, during the experience, be available to discuss how your child is going, and help them make sense of any experiences they may find confusing and troubling. For anything you consider needs further action, contact your child's school. Do not contact the workplace directly. The school will do this.
As a parent or guardian you must complete and sign the SWL Arrangement Form and SWL Travel Form supplied by your child's school, before the start of the placement. You can assist your child further by ensuring they organize a time to meet with their employer and by helping them to attend this meeting on time and well prepared.
The world of work is a whole new culture to a school student, even one with part time or casual work experience. Discussing this world, learning its language and its unspoken culture, are powerful learning opportunities for your child.
Your child's future
Geelong is growing at an unprecedented rate. Our population is predicted to increase by 40% in the next fifteen years. At the same time the nature of work itself is changing. 21st century careers are developing and changing so fast some researchers are calling this the fourth industrial revolution! click here to read more.
And yet many of our young people in Geelong are not staying in school long enough to learn the skills this new economy will require. We have a lower than national average year 12 retention rate, and 29% of our 15 to 24 year olds have not completed a Certificate III qualification or higher! This means we need to work hard now to ensure our current school students are well prepared for their future workplace participation.
What will your child get out of SWL?
real industry skills
the opportunity to try out their skills and knowledge in a real workplace against real industry standards
completion of units and competency modules
increased employability skills
a new understanding of what it takes to land and keep a job!
What do employers want?
The GRLLEN surveyed more than 5000 employers to come up with a list of three things an employer looks for in a young person: punctuality, teach ability and honesty. Check out the student's resources page on this site and help your child deliver on these! At the conclusion of the SWL, the employer may be asked to complete a comprehensive evaluation, which can be a valuable learning tool and a welcome addition to your child's resume.
Is there a future in this industry for my child?
Your child has chosen a regionally dynamic industry in which to commence their VET or VCAL training. Geelong's transition from heavy manufacturing into a new economy is well documented. So this is a great time to familiarize yourself with the top trending industries in Geelong, and the fastest growing careers within each one. Click on the icons below, or follow this link for more information: Geelong Careers
There is a surprising and changing range of opportunities within each of these industries. Advanced manufacturing is moving into new technologies like carbon, which are already skill shortages. For every seven graduate positions offered in Careers in Food and Fibre there is only one applicant, and this in an industry predicted to double in the next five years ! These great opportunities are going begging. Now is the perfect time to help prepare your child for employment in any of these growth sectors. (For national industry descriptors check out the MP4 video links on this page.)
The GRLLEN surveyed a group of 86 career seekers, including students and asked them where they wanted to live, study and work. 90% told us they wanted to stay in Geelong if they could. Our region needs our young people to help build and shore up our future economy. SWL can be a key step in retaining our children in our region and protecting our future.
Who else is on your team
The GRLLEN who will assist by sourcing an employer for your child's SWL.
Your school who will guide your child through the SWL process, including the SWL Arrangement Form which you, as parent or legal guardian, will also need to sign. Your school will supervise your child, visit them in their workplace and be your key contact for any information or concerns before, during and after SWL.
Your child's teacher who will prepare them for their SWL experience with units of work.
Your child's employer who will brief them on their workplace's particular occupational health and safety requirements, offer a them a workplace induction on their first day and ensure adequate support for and supervision of the SWL placement , complying with the Education Department's guidelines
The Education Deprtment who provides all of your child's Workcover and Public Liability Insurance cover once all paperwork has been fully completed.
To see real live jobs check out Geelong Careers. These jobs show where SWL might lead your student!
---
JUMP TO MORE TRENDING CAREERS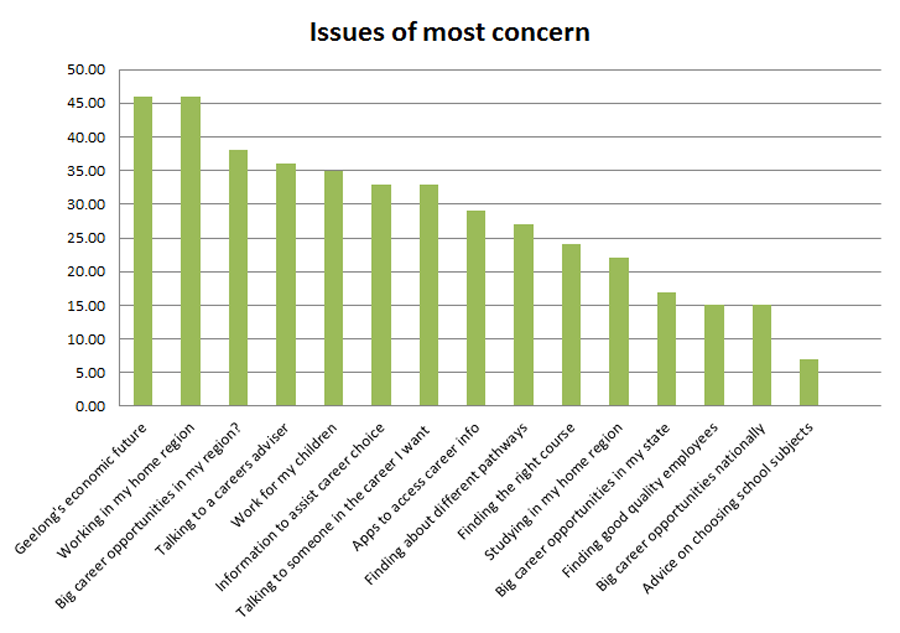 ×