Structured Workplace Learning for Employers
Hosting a student studying a Vocational Education and Training in Schools (VETIS) or VCAL course this year?
Thank You!! You are not only helping this young person, but you are contributing to the growth of our region.
Geelong is growing at an unprecedented rate. Our population is predicted to increase by 40% in the next fifteen years. At the same time the nature of work itself is changing. 21st century careers are developing and changing so fast some researchers are calling this the fourth industrial revolution! click here to read more.
And yet many of our regional young people are not staying in school long enough to learn the skills this new economy will require. We have a lower than national average year 12 retention rate, and 29% of our 15 to 24 year olds have not completed a Certificate III qualification or higher! This means we need to work hard now to ensure our current school students are well prepared for their future workplace participation.
By hosting a SWL student you are helping to:

prepare the young people of Geelong for their future careers
pass on invaluable work readiness skills
retain Geelong's future workforce
protect our region against future skill shortages
What is SWL?
SWL is on-the-job training where your student can master a set of skills or competencies related to their VETIS or VCAL course. (See table on this page for definitions of all these acronyms!)
SWL is more than work experience which is often short term and offers learning more by observing than doing. SWL is hands on! Your student will have the opportunity to practice and learn structured skills and abilities from their VETIS or VCAL program, and much more!
What will your student get out of SWL?
real industry skills
the chance to try out skills and knowledge in a real workplace against real industry standards
completion of units and competency modules
increased employability skills
a new understanding of what it takes to land and keep a job!
What are my responsibilities ?
You will be guided through the SWL process by the GRLLEN and your student's school and many of your questions may be answered by the resources on this page. Here is a quick overview:

You will need to sign the SWL Arrangement Form and Travel forms your school provides
Your student will require you to brief them on your workplace's particular occupational health and safety requirements
You need to induct your student on their first day, including a workplace tour
You need to ensure your student is properly supervised and is able to complete their required tasks and competencies during their placement
Once you have completed your SWL forms, you are fully covered for Workcover and Public Liability Insurance by the Education and Training Department
You need to pay your student a minimum of $5 per day (there are exemptions).
You may be asked to complete a student evaluation form at the completion of the SWL placement.
How to make the most of the SWL experience
The best way to get the most out of SWL is to pre plan tasks that your student may be able to complete during their time on site with you. While the number of working hours will depend on course requirements, your student is expected to work a normal working day, and to complete real industry tasks under close supervision and mentoring. For more about what to expect from your SWL experience click the resource button SWL Guide on this page.
What can I expect from my SWL student?
Most employers tell us they are looking for three things in any young person who wants to join their company:
Punctuality If your student arrive on time or early it tells you they are keen and ready to learn.
Teach Ability Employers don't want their student to know everything. They want to know they can learn. Your student is encouraged to ask questions. Employers often say the only stupid question is the one you didn't ask, that later causes everyone grief! But equally your student will be encouraged to listen carefully to the answers. It is annoying when they ask the same question over and over again!
Honesty It takes courage to admit when you have made a mistake, when you don't understand, or when you are not comfortable. But we know employers want their students to tell them the truth.
Your SWL student will be encouraged to practice these key characteristics, as well as the skills and competencies their course requires.
SWL is the first step along a career path that can lead your student anywhere. Everything they learn will be useful no matter what career they eventually choose. To find out more about the trending industries in Geelong click on the icons at the foot of this page. To see real live jobs check out Geelong Careers. These jobs show where SWL might lead your student!
---
JUMP TO MORE TRENDING CAREERS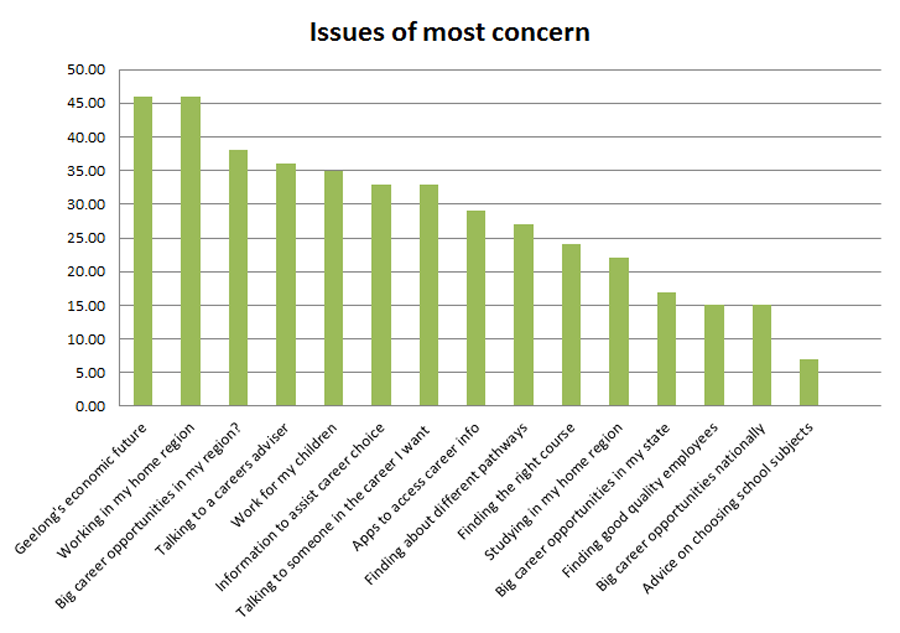 ×